Can rabbits eat mint? As a fellow rabbit owner, it's a question I found myself wondering the other day whilst admiring my gorgeous bunny. I've done some research so you don't have to. Heres what I found about adding it to your rabbit's diet.
Can rabbits eat mint? Yes you can feed your rabbit mint and enjoy many health benefits from it. You can feed a small amount to rabbits to meet their nutritional needs, make sure to wash mint first. However, you cannot replace hay with mint. Make sure that the diet has enough fiber. Otherwise, your pet might experience many health issues such as intestinal upset. Are you still confused? If yes, then keep reading.
However, you will have to take care of the quantity. Most importantly, you cannot offer all types of mints to your tiny friend due to their unique digestive system. But don't worry, most of the varieties can contribute a positive to the physical and mental growth of your pet.
IS MINT GOOD FOR RABBITS?
Yes, giving mint is safe for your rabbit when offered in moderation. As mentioned earlier, mint contains minerals, fiber, vitamins, and antioxidants. But you will have to feed only a small amount. Also, you will have to avoid the pennyroyal mint plant. This specific mint plant can be harmful to your non-human friend.
When it comes to the diet of rabbits, hay should be in adequate amounts. Quality hay can meet the nutritional needs of rabbits. Therefore, it should be the main part of the diet. Also, rabbits need more fiber than humans. Without a high fiber diet, rabbits will experience digestive problems.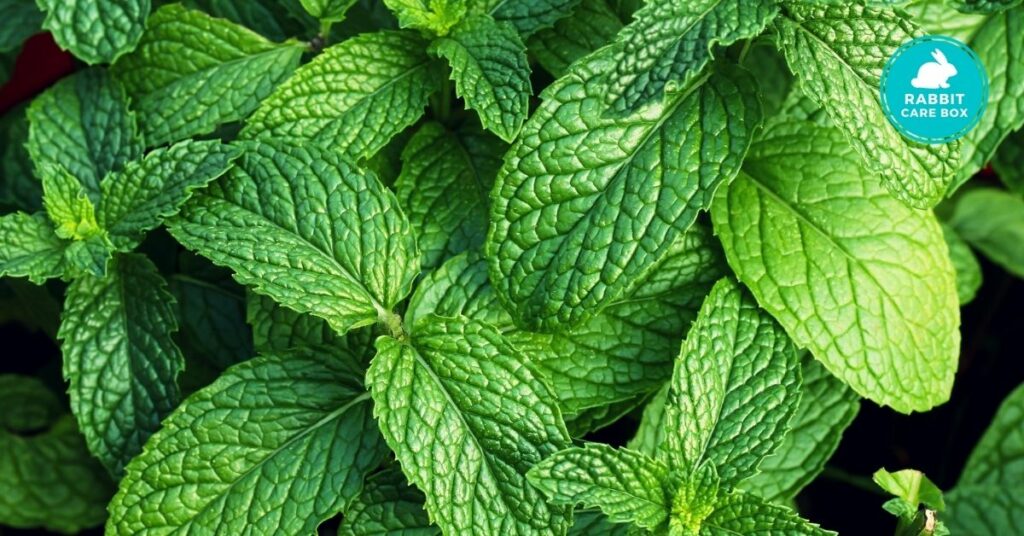 Also, dietary fibers can stop the formation of bad bacteria in the intestine of your rabbit and prevent stomach issues. Hay is rich in fiber, and it can meet the fiber needs of rabbits. However, your pet cannot survive on this food only.
You will have to add some other healthy food to its diet. You can consider adding mint since it has fiber and many other nutrients.
Nutrients Found In Mint
Mint contains many different nutrients for your rabbit. Did you know that mint is rich in protein, dietary fiber, calcium, vitamin C, iron, potassium, vitamin A, zinc, copper, manganese, and magnesium. All these vitamins and minerals make mint plants healthy for a rabbits diet.
LIST OF HEALTH BENEFITS OF FEEDING RABBITS MINT
Can my rabbits eat mint leaves and fresh mint to stay healthy and active? Yes, mint can make your pet healthy. It has many vital nutrients to support the growth of rabbits.
Also, mint is rich in dietary fiber. That means mint can prevent gastrointestinal issues in rabbits. Your rabbit will not experience bloating, gas, and diarrhoea if you add mint to its diet. Here are a few benefits that your rabbit can get from the mint.
TREATS & PREVENTS STOMACH ISSUES
Mint contains fiber, and rabbits need a high fiber diet to support their digestion. Also, mint can treat indigestion and digestive tract blockage in rabbits. When your pet gets watery stools, you can add mint to its diet to improve the condition. Apart from that, mint can reduce flatulence and many other stomach discomforts.
Once you add mint to the diet, you will notice a few digestion issues. Your pet will get natural relief from gas, flatulence, or similar problems.
Mint leaves and plants contain many beneficial nutrients as a food. Most of them can contribute to the mental health of your rabbit. You might not be aware that mint has low oxalic acid. It helps with improved brain performance.
MAKES SKIN & BONES HEALTHY
Mint has vitamin C, and this vitamin can contribute to muscle development in bunnies. Also, vitamin C will keep the blood system healthy. It is a powerful antioxidant and can improve the skin and bone health of rabbits. Also, bunnies need an adequate amount of vitamin C. Otherwise, they can experience scurvy disease.
Apart from that, mint is rich in vitamin K, and this vitamin can make bones strong. Also, mint has potassium, and it can prevent muscle mass loss. Besides, it will minimize the risk of kidney stone formation in your rabbit.
Like humans, rabbits need a healthy immunity to get natural protection from many diseases. Mint has vitamin K, C, and A. All these vitamins act as powerful antioxidants and can strengthen the immunity of your pet.
As you know, mint has vitamin A. This vitamin can improve the vision of the rabbit and humans. Also, mint is an excellent source of beta-carotene, and that can prevent blindness in rabbits. If you offer mint your pet, your tiny friend will not experience age-related blindness.
CONTRIBUTES TO HEART HEALTH
Mint has magnesium and potassium. As supported by research reports, both these can minimize the risk of many heart diseases. In brief, mint plants can help your pet with many health benefits. They will contribute to the bone, skin, digestive, heart, and vision health of rabbits. Even if mint is healthy, you should avoid giving more. Yes, too much consumption can cause painful bowel movements and loss of appetite.
DO RABBITS LIKE MINT?
Can my rabbit feed on mint and like the taste? Rabbits do not like mint plants because of the smell. However, a few rabbits might like the taste. You can offer small quantities to know your pet loves the taste or not. If your pet does not like it, then don't force it. Instead, you can keep offering it with other herbs and foods.
HOW MUCH MINT CAN YOU FEED RABBITS?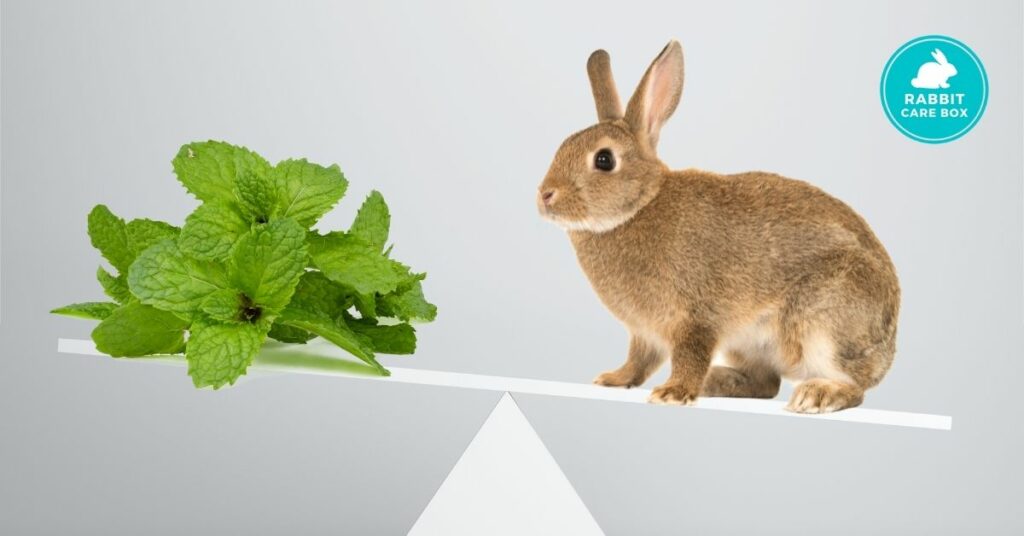 Undoubtedly, mint is safe for rabbits. However, excess consumption can be detrimental to their health. As stated earlier, overfeeding can result in gastrointestinal distress. You can use a single sprig as a healthy garnish.
CAN RABBITS BE FED MINT DAILY?
Yes, your rabbit can consume mint daily. As you know, bunnies are herbivores. Therefore, you will have to add a considerable amount of vegetables to the diet of rabbits. Make sure that your pet has access to adequate vegetables every day. But when it comes to mint, it should not be the only source and you don't want to give too much mint.
You can offer a small fresh mint stem once or twice a day. In addition to the mint, you will have to give many other healthy vegetables to meet the nutritional needs of your rabbit's diet. Also, your pet will love to eat different varieties.
CAN RABBITS EAT MINT LEAVES?
Yes, rabbits can eat mint leaves. You might not be aware but mint leaf is the healthiest part of mint plants. Leaves contain many nutrients to support the healthy growth of your pet. Also, mint flowers are safe for rabbits. In brief, you can offer both mint leaves and flowers to your rabbit's diet.
CAN RABBITS EAT MINT STEMS?
Yes, your bunny can eat mint stems. But you will have to avoid overconsumption regardless of the part. Not all plants are safe. When it comes to mint roots, they are not toxic to bunnies. However, they do not offer any health benefits. Hence, you should avoid feeding mint roots to bunnies.
CAN RABBITS HAVE MINT TEA?
Yes, you can offer mint tea to rabbits. If your pet does not like to have it in the raw form, you can consider using the mint leaves and serving as a tea. Prepare the tea with fresh water and allow it to cool. Make sure not to use too much mint. Also, you should not add any different herbs or ingredients to the tea.
CAN BABY RABBITS EAT MINT?
No, you should not offer mint to baby rabbits. They have a delicate digestive system, and mints can cause digestive problems to baby rabbits. Once your pet becomes twelve weeks old, you can add a small amount of mint to its diet.
After introducing any new food, you will have to observe the impact. If your pet experiences some digestion issues or stomach upsets, you can stop feeding mint for a few weeks.
BEWARE OF FEEDING YOUR RABBITS THIS TYPE OF MINT
A lot of the mint family are safe for rabbits. You can offer different variety of mints to your rabbit. However, best avoid pennyroyal mints. This variety is harmful to human beings and rabbits. Pennyroyal is rich in cyclohexanone pulegone.
Pennyroyal contains 80% of the cyclohexanone pulegone. Yes, this compound makes pennyroyal mints toxic to rabbits. There are two types of pennyroyal mints. These are American and European pennyroyal.
You can identify these plants from their flowers. When the American type has blue color flowers, the European pennyroyal flowers look lilac. If you feed any of these types to rabbits, they might experience weakness, high temperature, lethargy, and diarrhoea. Visit a vet immediately.
HEALTHY LEAFY GREENS ALTERNATIVES TO FEED YOUR RABBIT
You can add some other herbs and leafy greens that include basil (a good herb), endive, rosemary, lavender, bell peppers, peppermint, cilantro, Brussels sprouts, bok choy, parsley, fennel, red leaf, and green leaves.
You can offer two cups of vegetables to your pet rabbit everyday.
CONCLUSION
Can rabbits consume mint? Yes, rabbits can eat fresh mints and get many benefits as part of a balanced diet. You can feed mint leaves, flowers, and stems to rabbits in small amounts. However, best avoid roots of the plant. Also, you will have to take care of the quantity and avoid giving your rabbit large amounts. You can serve daily but a small amount to keep your rabbit healthy. Avoid pennyroyal mints. They are considered toxic.